Read Time:
1 Minute, 58 Second
USDJPY
Here we have the master of price swapping and the continuing trend. Some time ago I wrote about a weak signal that turned out to be wrong, and today we are 500 pips away. The Japanese minister said today that the situation is starting to be worrying because the price is determined more by the Forex market than the actual situation in Japan. Looking at the fact that we are already above the level I described as our last chance resistance, you can see that the market is not doing anything about it.
Considering the general situation in the world, starting with the coronavirus pandemic and ending with the current war situation in Ukraine, you can see that the dollar is gaining in value, and we can witness a longer upward trend showing significant differences between the two economies at the global level.
EURUSD
We think that only Asia stands out from the USA? As you can see, not necessarily. The European policy and the significant differences in opinions regarding sanctions between the leaders of various European countries show to what extent the Union is "united". Unfortunately, too many European leaders have financial ties to Putin who is an example for them to make money from fraud and theft in white gloves against their country. Why look for alternatives, since Russia not only supplies raw materials, but also invites you to a luxurious vacation to its residences and places under its control. Why change something when you stop earning money as before. Delegations to Russia for training are just a drop in the ocean of pathology that is happening in some countries.
The situation on the chart shows where we are. The US introduced the largest sanction in the world. The USA is self-sufficient, and can supply other countries in the world. The USA has the latest military and electronic technology. So why is it any wonder that the USD is still gaining? I am watching the situation closely, but out of position.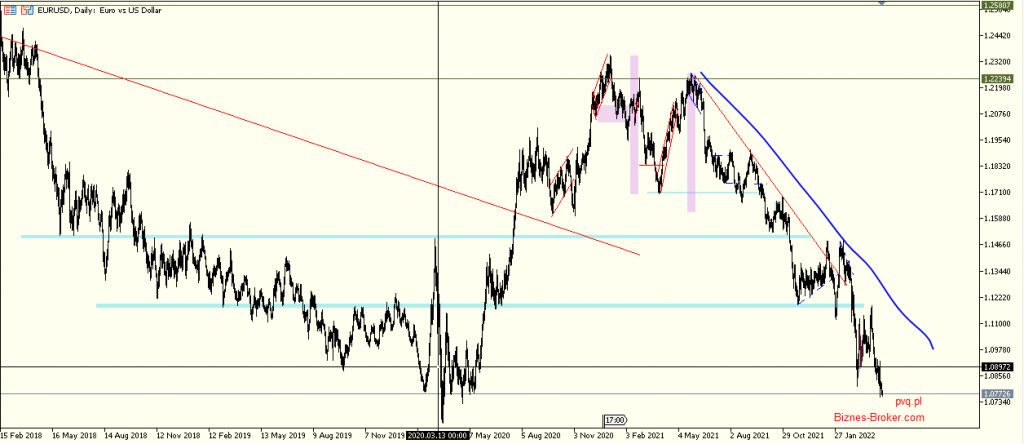 USDCAD
It is also worth taking a look at this currency pair. The situation is stable. One continent, similar nations (a bit similar, although Canadians and Americans often do not like each other satirically). There is a chance for a decline, but we will see if the predictions from one and a half weeks ago come true.