Read Time:
1 Minute, 49 Second
Due to the holiday in Asia and today's American Presidential Day, I do not see any clear clue as to the direction of couples. Personally, I will probably stay out of the market for most of the trading session, only as an observer. So, today's overview will be rather short.
We will start today's review with the Swiss currency paired with the US dollar. You can see the weakening dollar through which the pair broke the support and is going further down. There is a chance for the resistance test again, but I expect a further deepening of the price low. It is possible that after breaking the local support, I will try to enter with a small position.
USDJPY looks very optimistic. It can be said that it is quite contrary to most pairs with the US dollar. You can see Jen weakening so that the pair did not break through the designated support and the movement continues upwards. The exit from the wedge gives a positive impulse to reverse the trend, but you can also see that the price is at the resistance level from August 2018. As before, my trading decisions will be limited due to today's low liquidity.
The GBPUSD is pumped up a lot, which shouldn't be a surprise to us as I wrote about it almost from the beginning of the site. We mainly see during the Asia / Australia session that the price is rising with virtually no corrections. I have now marked placements on two images. The further increase goes to the price of 1.40117. Corrections are expected to the support line at the level marked in the image.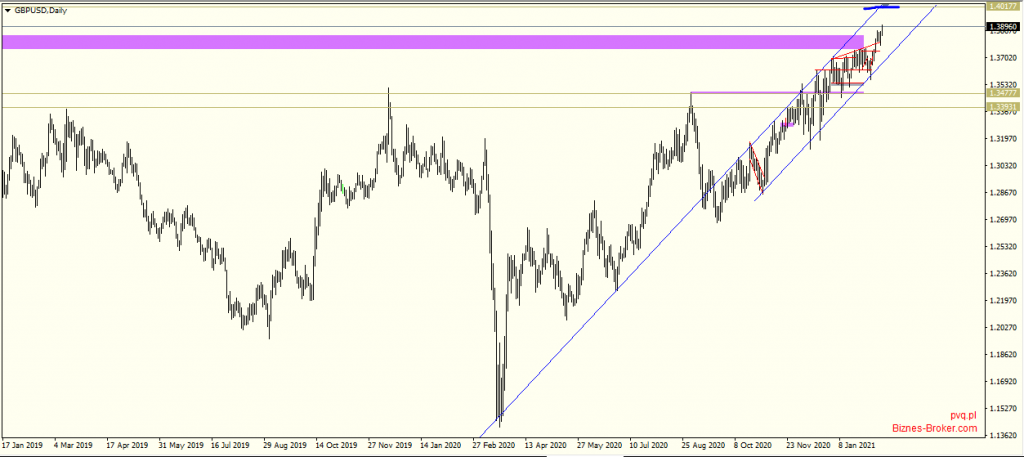 Petroleum, according to the revised assumptions, continues to go up. The first price range was wrong because I did not take into account the possibility of the price range from the flag in the middle of the move. At the moment, I expect an increase to the marked level, but I will not be short there until the market gives a clear signal because as you can see the trend is strong enough that the SL hedging orders can only drive the breakout above the level.