Read Time:
1 Minute, 40 Second
Welcome to next week where we check what is happening on the charts.
EURUSD H4 A currency pair that rebounded initially from the support, but Asia broke the price with practically one move. Currently, in the picture I have marked the support we are on. The price has reacted several times at this price level, but personally I leave Monday to observe the minimum until noon so that the situation on the chart is more visible.
DAX30 H1 There is a chance for growth in the German index. The price opened with a gap at the top, but the Asian session efficiently broke the course to the line drawn as shown in the picture. If the level persists, there is a chance for further increases, however, today's data indicate a decline in industrial production in Germany, which may weaken the DAX. However, tomorrow, a slight improvement in the trade balance is expected, which is a positive factor. So far, the market is at a minimum until the London session.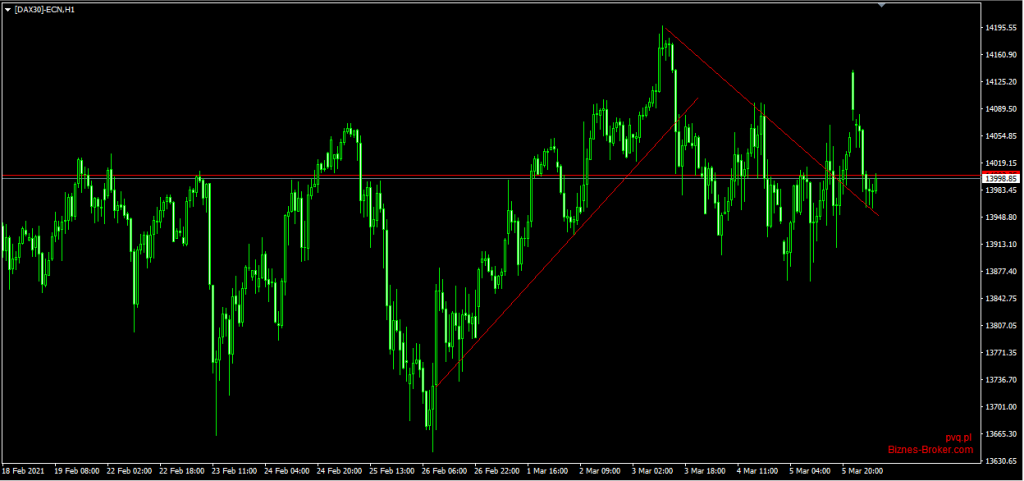 USDJPY D1 The situation of the currency pair remains optimistic. In the middle of the week we expect macroeconomic data that indicate further strengthening of the US dollar. Currently, 50 trading days saw gains that covered 150 days of decline with numerous revisions. Such intense increases may result in an unexpected correction, especially as we are approaching a resistance which is the beginning of a fairly wide zone which I do not mark yet.
The H4 silver crumble as I mentioned last week has a chance for a further decline. The current retest of the resistance level caused the price to drop further to local support. The assumption was to leave the designated flag, so I marked the possible range in the image with a blue line. This will be the level that has been determined from the top in front of the canal to the well. Then the same number of pips from the top of the channel to the designated place.