Read Time:
2 Minute, 4 Second
Welcome to another Monday morning. Unfortunately, the market situation looks tragic. The exchange rate of the Polish zloty collapsed. Bloomberg wrote about it last week but that was where the price to the Euro and the Dollar was much lower. Oil price? It broke the 2008 level. The US wants to take final steps to withdraw oil supplies from Russia. All this means that someone makes money on it so that normal little citizens can lose. Now think about it, if every citizen in the world loses $ 100, multiplying that by 7 billion people is an amount worth risking. And we lose more ..! Inflation, prices of raw materials and everyday life are rising so fast that I am already losing track of.
EURUSD
The situation looks bad. Everyone sees a place of support, but do you think it will continue? If the price gets close to the marked level and the world situation does not change strongly enough to see an improvement, the level will not be maintained. Unfortunately, a strong breakout can be expected before the price rebounds. After hitting all the "stop losses" along the way, there may be a correction.
XAUUSD
The range I wrote about last year can be achieved. Currently, the price is running smoothly with adjustments that will probably cut out individual retail investors. As long as the price remains above the trendline, which is quite sharp, we have strong growth. With such an intense trend, the corrections are also strong, so it's worth being careful when connecting. With these strong trends, I recommend that you follow the trend of an uptrend and avoid playing the reversal as it often results in a close at a loss.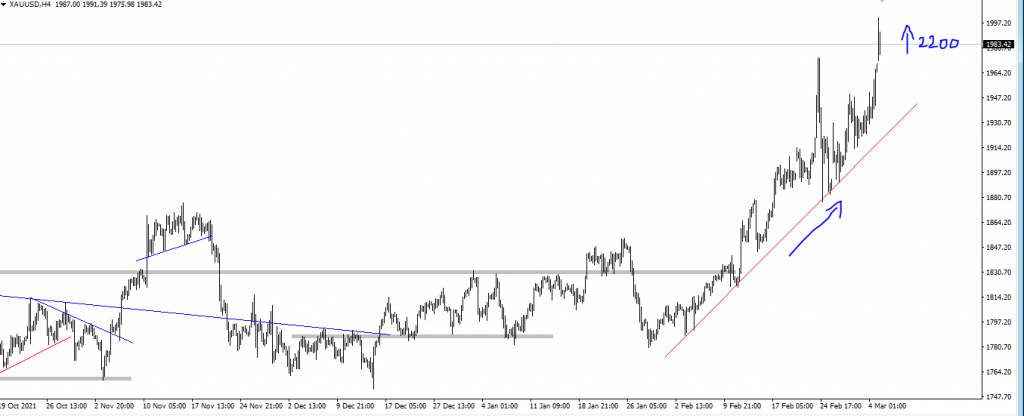 EURPLN, USDPLN
Below are two charts and how not to manage your state. The Polish zloty exchange rate collapsed and the central bank's intervention and your absence. Earlier interventions slightly slowed down the price, but it was a slowdown and not a saving of the national currency. Unfortunately, at the moment we do not hear about attempts to bring the Polish zloty to a sensible price level, which causes price increases in the country, and unfortunately higher prices of everything that is imported from abroad. Absolutely everything. Chart analysis is pointless, because no resistance will stop something that has no economic basis to stop. And since we do not have, we can only count on the dollar to keep and take profits from long positions that lowers prices.