Read Time:
1 Minute, 57 Second

Welcome to the next August Monday market review. There was a lot of action on precious metals and USD currency pairs overnight. Let's start!
XAUUSD
The gold during the Asian session weakened very much and I honestly admit that I would not expect such a move at night. I assumed this level when setting OverBalance, but expected to reach this level in 2 or 3 days. The last analysis was on Wednesday so I did not manage to show the range after exiting the channel, but it was in line with the support with a huge number of long orders. What are we expecting now? The rise of gold and the surpassing of the last highs above the price of 18xx.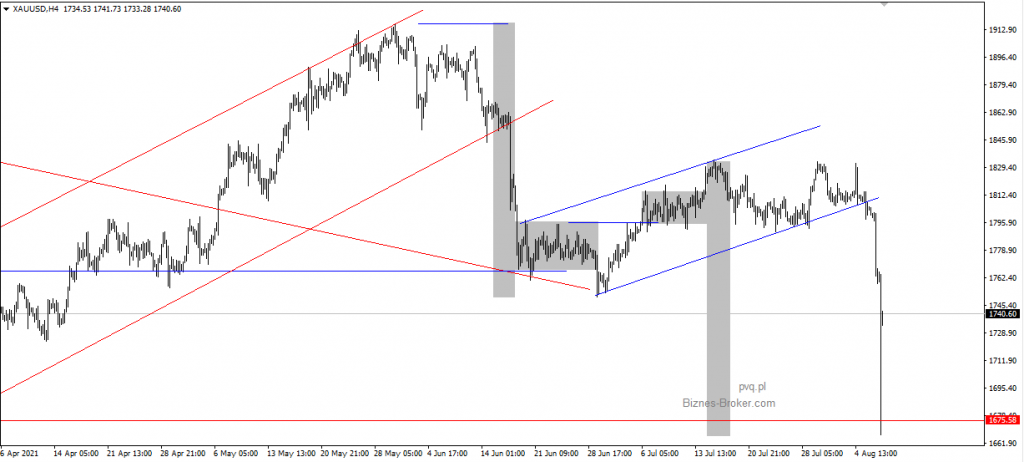 BitCoin
Our favorite cryptocurrency, in line with expectations and assumptions, is going up, strengthening itself. Remember to watch the volume which should be the basic tool for reading sentiment in the market. So far, the simplest analysis of the trading volume shows that it works, and it is the same today. You can see the correction after the weekend that occurs together with the reduced turnover on the stock exchange. This state of affairs suits us, and we are waiting for the volume turnover to increase with the concentration of the bottom and a breakthrough to the top. This behavior of price and volume will signal that buyers are collecting coins and pulling the price up.
DAX30
We saw a slow recovery from a fairly broad consolidation last week. The expected correction started at the psychological level I wrote about in the middle of the week. Currently, we have a positive signal from the market for further growth, but the level marked with a cross will mean a possible further correction of which I marked two ranges with numbers one and two. Again, we are not catching the lows and we are not entering until the market gives a signal.
GBPUSD
And finally, a quick overview of the British Pound. Right now, before the opening of the European session, I see a rebound and after the opening, during the correction, I will be going to go long. However, if the currency pair breaks the level marked with a cross, the position will still be short and I will look for an entry in line with the trend.