Better to add to a profitable or losing position?
A more complex aspect of risk management is keeping track of several prices on different currency pairs. After all, it can be overwhelming when you view different setups with multiple entry points, have 15 charts open and browse each of them several times a day to get into a position perfectly. After all, you have 10 positions on every other instrument that are de facto correlated with each other, but the ranges of movements are different, but each chart should be monitored individually so that nothing is surprising like macroeconomic data for Australia or New Zealand at night, or a tweet for Japan early in the morning before you get up.
Pyramiding
Scaling in and pyramiding is a practice often used by more experienced traders as it allows them to take advantage of the price action and not miss any moves. Pyramiding can also allow them to take advantage of their market advantage if they are able to add more trades to their previously earning positions. Meanwhile, scaling "out" is called reducing positions which may allow you to reduce losses or reduce your exposure ahead of market news such as macro data.
Scaling can also work to your advantage if you are trading for breakouts and you would like to add to your positions if price keeps making new highs or new lows. For example, if you anticipate that the raise from a symmetrical triangle will continue at 500 pips, you can add another 100 pips to your position and adjust your stop losses accordingly so that the end result is averaged over all positions.
However, when doing this, you should always be aware of how much of your account is involved each time you add another item. Do not forget to keep track of all positions if you want to protect your profits, because in a short time you can see the total loss from the total profit and achieve the opposite of what you intended.
Grid, averaging losses
Grid is loss averaging, this method is often used by traders who see few potential entry points. For example, if you are using the Fibonacci tool to select positions in the direction of the trend, but the different levels are in line with major or minor support and resistance points, you can set orders at each level, rather than selecting just one full position size.
What is difficult with this style of trading is that you also need to be mindful of your risk management principles before deciding on the position size to enter at each level. An easy way to do this is to simply divide the risk percentage by the number of desired entry levels before calculating your position size based on your stop loss. Then the Stop Loss hedge can be set in two ways, one level for all positions, i.e. in the 5th position, the first one will have a stop at 40 pips, the second at 35, the third at 30, the fourth at 25 and the fifth at 20 pips, thus each subsequent position has a smaller stop, but in the event of a price movement not our way, they will all close in the same place. Or the second option, each small position has a pips rate, meaning each position has a stop rate of 20 pips.
This method is extremely difficult to master because for the vast majority of traders, the problem is to come to terms with the loss. Adding to losing positions is often counterproductive. Many cases end up with the trading account being reset. If you are a beginner, do not learn this practice!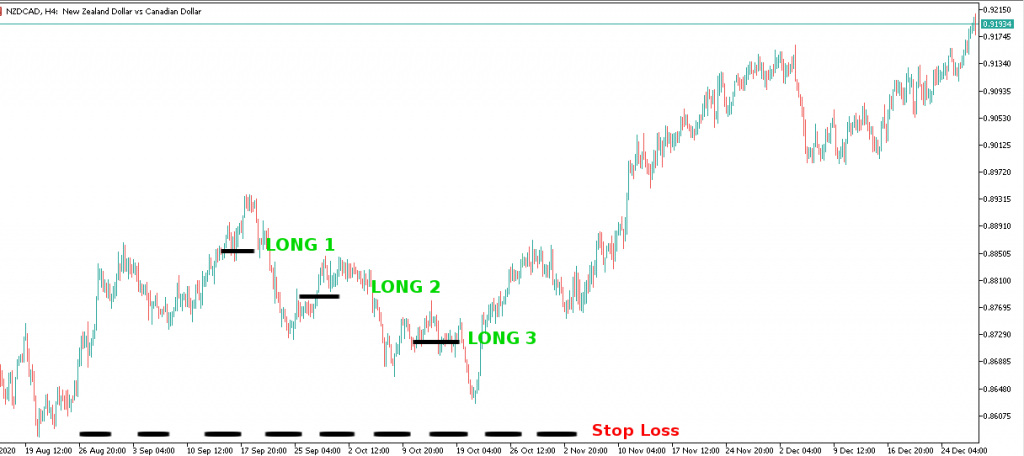 Martignal
Some traders choose to adjust their risk to every possible price, placing a smaller position first on the closest possible levels, then risking more when adding more and more positions, often as pending orders. Starting from the position smaller than the standard one, and adding each next 2 or even 3 times bigger than the previous one. As mentioned before, it depends on your risk profile and whether you can track these multiple positions if they all run when you have orders pending at the designated levels, or when you open them yourself. As with grating, this method is very dangerous. Don't learn it or you'll get bad practice. The method is intended only for people who are doing well in the market and are already making money on it.
Scaling "out" – reducing the position
Meanwhile, scaling out means gradually reducing your position. For example, when an event of the highest degree is approaching that may have a large impact on the market, or if you believe that the price movement is exaggerated and there may be a significant correction because the price has already become speculative, not supported by technical analysis or any fundamentals, then you reduce your positions by half i.e. with 5 lots open, you close 2.5 lots and keep the remaining 2.5 lots. That way, you can keep more profits in case the price turns around because half has been cashed in the middle.
As with scaling, pyramiding and any other method, make sure you know how much of your account is involved in each case. Developing this skill takes a while or even a long time as it may require several calculations based on customized orders and adjustments. At the same time, you should also track your potential risk return to see if it is worth adding or reducing your position.
These aspects need to be planned in advance when you come up with your trading idea as it is recommended to have a detailed strategy for different potential scenarios. This way you will not be surprised when the markets make a strong move and that you are able to take advantage of the resulting price action.