Read Time:
2 Minute, 27 Second
Last week had moments where he was able to surprise. There was no impact of macroeconomic data as we would expect. The swearing-in of Joe Biden has already largely been priced into the financial value. Crude oil prices (despite the significant difference between the forecast and the reading) did not react strongly enough to surprise us. So we're starting a new week in the markets.
EURUSD H1 gave a positive signal to increases. After breaking the resistance, we waited for a strong break in the level, but the currency pair had a problem and rebounded between the marked line several times. Consolidation caused local resistance. At the moment, breaking this resistance will give us the possibility of further growth. A pullback to support and an exit to the bottom will mean further declines. Perhaps to fill in the OverBalance that we set out a few days ago.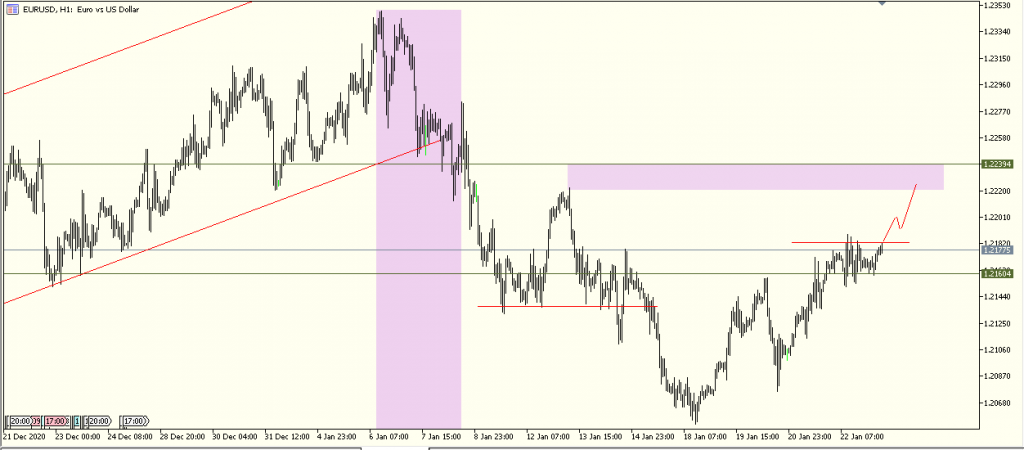 USDCHF H4 as you can see not much has changed since last week. The currency pair stopped a bit ahead of local support and started to consolidate. The overall situation of the dollar with most currencies during the Asian session indicated a weakening. The dollar weakened against many currencies, so if the situation does not change, the currency pair with the Swiss Franc will also continue to decline.
GOLD H4, in Friday's session, it did not break through the resistance which was a condition for taking long positions. The previously determined local trend line served as a support to the gold rebound and a stop in the zone. Currently, the scenario remains unchanged. Going up above the designated zone will give a positive impulse to growth. At the moment we have short positions all the time.
NGAS H4, on schedule. Last week I wrote about this scenario and today the stock opened with an upward gap. The gas broke the hole I wrote about which could scare some investors, but the designated zone was the level we took into account. I treat the current gap as a positive growth impulse. Stop Loss can be switched to BE and wait calmly for the situation to develop. If the rate continues to decline, we will adapt to the situation during the course.
The DAX H1 last week failed to make any profit for investors focused on long moves. The German index moved in the medium range of 150 points with relatively large corrections. You could easily make money during the daily session by adjusting to the average daily range of motion. Currently, there is a chance for growth, but in my opinion not earlier than after breaking the designated zone. It can be seen that the DAX price has not made a new high for two weeks, which means that there is a possibility of deepening the correction. A local breakout can give an impulse for a bigger rebound. And the breakout of the resistance from the week before, further increases and new highs.