Read Time:
1 Minute, 57 Second
Welcome to the next Monday Forex review and beyond.
GBPUSD
We will start with the British pound because its situation after the weekend surprised me a bit. I was wondering whether to leave positions for the weekend but eventually closed. You can see that it was a good decision because I assumed further increases and the price deepened the local low. At the moment, after breaking the marked level of the trend line, I will rather be looking for an entry into a short position with a range of the minimum to the levels marked in the image.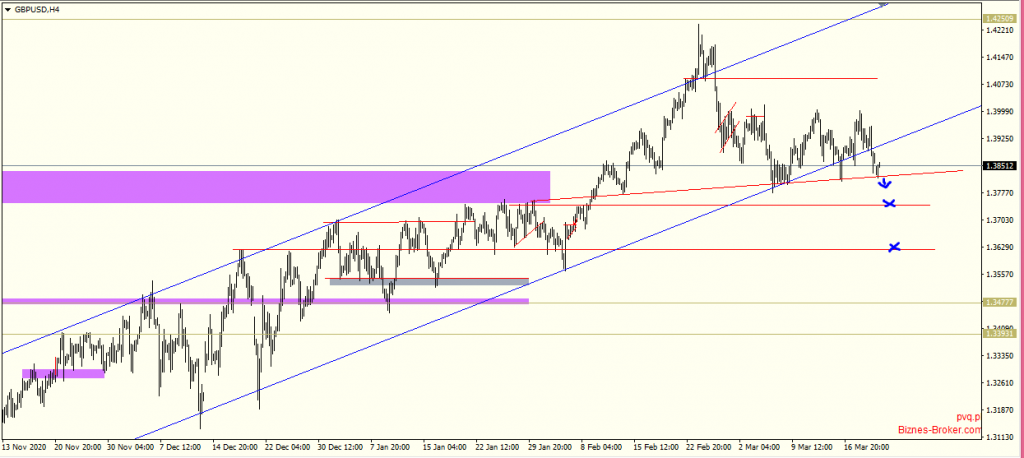 EURUSD
EURUSD from the H4 timeframe stopped at local support. However, I do not expect a rebound. Just like in the pound, I will be looking for short positions after breaking the support. Input after correction on local fibo 50 or local resistance. The range is marked in the image. However, if the price does not break the support, I will consider long positions after the entry of European and English capital.
GOLD
Gold is in a similar position to currency. Possible further declines started by Asia. I do not know what today's speech by the Fed chairman is about, but Asia apparently aimed at strengthening the USD. I'm not convinced myself, but I don't make decisions based on guesswork. And neither should you because you are putting your money on.
DAX30
The DAX30 is still in the growth phase despite the recent correction. We were able to play a few short positions from a low interval. However, in the higher time frame, the trend has not yet been negated. It should be noted that the price has rebounded from fibo 161, but the last lows have not yet been broken and the price is currently at support. After breaking the trend line shown in the image, I will consider a short position in the long run. The entire scenario will coincide with the plan for currencies.
BTCUSD
BitCoin slowed down after it hit new ATH a week ago. Currently, you can see from the volume of trading that the trade is getting smaller. It can also be noticed that the phase of consolidation still remains on the side of buying investors who either start buying after declines or buy lows creating an increased volume. Currently, it expects further increases.