Read Time:
2 Minute, 16 Second

Welcome to the last Monday of this month. We are entering the holiday season in Europe, the markets will be calmer and our attitude needs to change a bit. This week, on Wednesday and Thursday, macroeconomic data are announced that will have a real impact on the market, as there are many of them for the world's largest economies. As for the expected readings themselves, there are no surprises, and the forecasts are slightly different from previous data releases.
USDCHF
We have a possible flag formation on this currency pair. If the price goes up, the range is shown in the image. The range coincides with the resistance, some of which can be seen on the left side. It prefers entering the position only after the breakout and correction, but sometimes the rate does not retreat and we lose the opportunity to trade, so you can enter half the position after the breakout and the other part after the correction (if the previous one does not close to zero) .
XAUUSD
Gold remains in the zone we set out last week. This week the price will surely set a direction, so it is worth watching and waiting for the breakout. Entry as standard after the breakout and correction, but gold sometimes does not give a clear signal, but makes a strong correction and rebound in the "V" pattern, so it is worth watching on a low time interval to be able to enter the time of rapid volatility.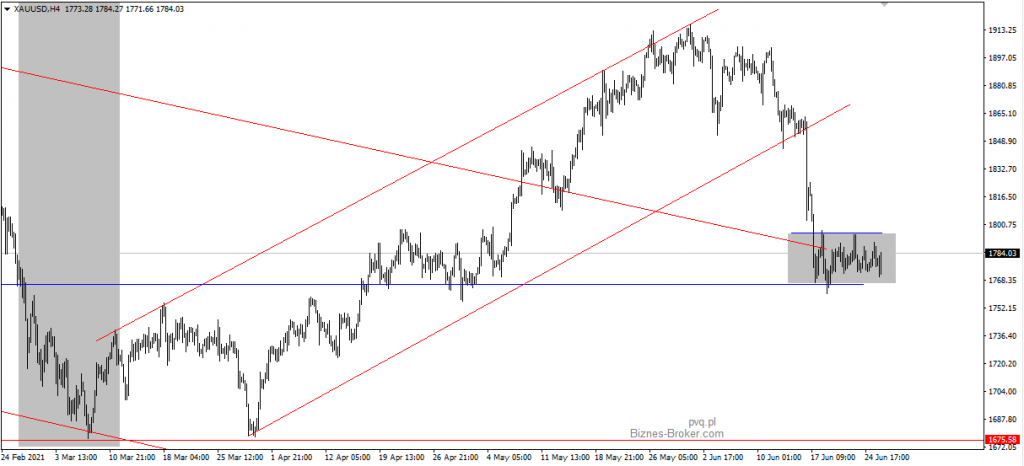 DAX30
The German index decelerated considerably, so you can see a triangle formation in the upward channel. The picture shows what it is all about. I will probably start my trade today not earlier than after the entry of English capital, because from the morning there are deceptions that sometimes cause unnecessary losses. Personally, I expect the price to go up further, but I will make my decision once the direction is established, because trading is not about predicting the future, but investing based on what we see.
BTC
Bitcoin does not look optimistic for one simple reason, there has been a downtrend. The easiest way to notice this is that the lows and highs in price are getting lower. Unfortunately, there is still no clear signal of a rebound that would indicate further strong gains. After that, the holiday period is squeezing investors out of their coins to buy them back at a better price, so we can expect a rebound only after the holidays. I marked the breakout we had now in the image and compared it to other similar breakouts. The overall volume increases during downturns, and single breakouts are likely individual investors who simply buy to hold the currency in the long term.