Read Time:
2 Minute, 10 Second
While BTC is trading around $ 37,000 per coin, speculators are looking forward to the next strong upward move. Others are counting on a strong correction, but this one is blocked by whales, which buy Bitcoin every time they fall.
Strong support at $ 32,000 per coin
After the oldest cryptocurrency plunged from $ 41,000 to around $ 31,000 a week ago, new entrants were confused. People focused on quick profits began to worry, for experienced investors such a correction was something completely normal. It is worth adding that during the 2017-2018 boom, Bitcoin had as many as 9 pullbacks – price drops of around 30%.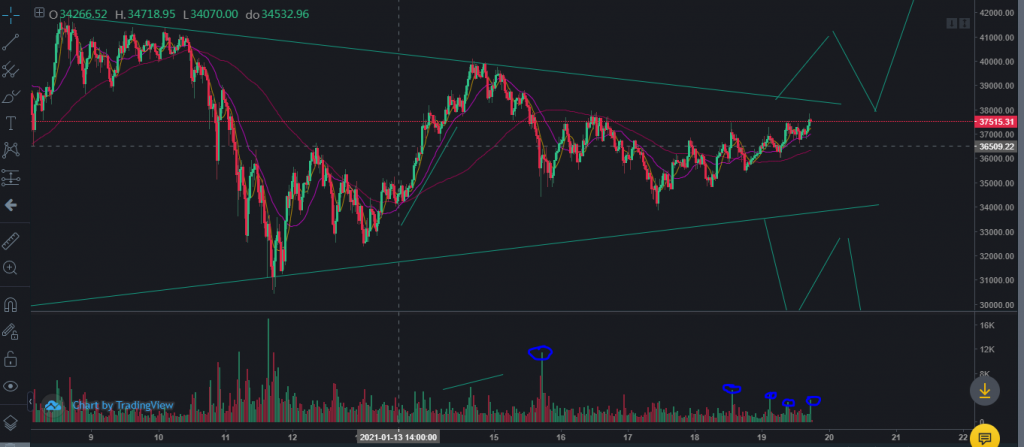 The whales quickly seized the opportunity by buying BTC at a discount. While BTC is close to $ 37,000 per coin, JP Morgan Chase's Nikolaos Panigirtzoglou says it "needs to recover to $ 40,000, and if it doesn't do so soon, another decline could appear on its chart." Not assessing the validity of the statement .. However, analysts are not putting their money so they can talk. As in 2017, every analyst repeated every two days that "the bubble is about to burst" and the bubble grew much higher.
Note that Bitcoin did not hit $ 32,000 in the past correction – this is a very strong level and can be hard to break due to the support and orders of large investors taking every opportunity to expand their portfolios.
Long-term forecasts
The $ 40,000 levels may just be the beginning. Hedge fund analysts Pantera Capital linked the current price situation of Bitcoin to the trajectory of the stock model. It should be added that it takes into account halving – an event as a result of which in May last year the amount of BTC coins mined was reduced as a result of the distribution of the prize for each newly excavated block.
According to calculations, the price of the most popular cryptocurrency may reach $ 115,212 by the end of July. Let's take the correction, because if the price grew at the same rate as in 2017, we would already have 100k USD.
According to Andy Yee, director of public policy for visas in China, the current boom is definitely different from that of 2017. Citing the Pantera Capital report, he stressed that we are seeing a strong shift from highly speculative and worthless tokens to major cryptocurrencies such as Bitcoin and Ether. It should be remembered that during the previous rally, every coin was sought after by speculators, whether it had a strong foundation or not. Currently, such situations do not occur and users are more cautious.